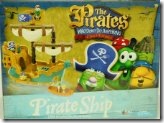 Well, it used to be Jonah's boat.  Today it's called the Pirates Who Don't Do Anything's Pirate Ship.  Same boat, different colors.
Anyway, we purchased this boat with all of its vegetables at least two years ago, and have only a few quibbles.
The pieces that came with it were a lot of fun—especially the cannon.  It shot out either a bowling ball or a tennis racket.  The surface area of the boat was great for playing, and it wobbles back and forth when rolled across the floor.
The masts are not that sturdy—our front one broke off and we cannot glue it back together.
Other than that, one of our little grapes took "Jonah" to WalMart and from there he never returned.  Perhaps he found Reginald or decided to go off to Nineveh from there.  We'll never know.
Overall, a great toy and definitely worth the hours of fun your child will have with it!
(Visited 47 times, 1 visits today)