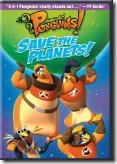 Have you run out and got your copy of Save the Planets! yet?  I have to admit that buying a set of shows that originally aired on television and are now being repackaged into a DVD to get me to buy really doesn't appeal that much to me.
The Amazon reviews sing their praises, however:
If you're new to 3-2-1 Penguins, they are wonderful. The animation is beautiful, with rich colors, and a three dimensional appearance. The penguins are hysterical, and the messages are meaningful, yet simple enough for a child to understand. Often a Bible verse is used to back up the moral of the story. They are done by the same people who do Veggie Tales, only now everybody has hands.
How about you?  Is it something that you'd go out and buy (or you would like seen given away here as a contest), or is it something you'll just catch on Saturday mornings?
(Visited 61 times, 1 visits today)