I don't know about your house, but at the Plum residence this time of year, we like to watch the classics. Yes, hardly a Christmas goes by that we don't watch the Toy that Saved Christmas or It's a Meaningful life.
Penny just had us watch this last one on her birthday!
So, I thought, why not let you in on what the Plum family considers their ranking for the VeggieTales Christmas movies in case you'd like to have some vegetable fun this Christmas season.
In this Christmas classic, Larry is a Cucumber named Stewart that got injured during the game which would have led him to a life of fame and fortune. Morty Bumble (Mr. Lunt) gets to go instead, while Stewart runs his father's toy factory. Things go along fine until the Bumble Bee shows back up and threatens to buy the factory because they can't make enough toys. That's when Stewart wishes that he would have caught the football, and a mysterious train conductor takes him on a journey to see how different his life would be.
Larry is a Christmas Elf that is taking requests for Santa, but ends up going on an adventure to find a girl that gives him one of her home made cards. She's looking to help a neighbor, and with the help of some beets and all the lights from a mall, the neighbor is helped, and the focus is put back on the King of them All- Jesus.
The best part about this is the music! The family is constantly singing the main song through out the Christmas season!
Picking up on the great musical VeggieTales, check out Mirabelle in Beauty and the Beet. When Larry and the VeggieTones are stranded in the snowy mountains, they find solace in a chalet that has a notoriously mean manager. But with a mix of great tunes, fun supporting characters and Mirabelle's unwavering desire to show God's love to even the unlovely, this definitely falls into the Christmas genre.
Plus there's an added Christmas music video at the end after the scene with Qwerty! You'll definitely enjoy the music here.
Ever wonder about the connection between Santa Claus and Christmas? Well then, this is the VeggieTales episode for you! Watch as Bob the Tomato tells the story of St. Nick from his time as a child through when he takes on his famous role, all while Larry the Cucumber adds helpful bits, and gags a plenty.
And it all comes back to the true focus of Christmas, helping and giving to those in need.
This is actually a prequal to An Easter Carol, which takes place in a British setting. In this movie, Bob and Larry play two coworkers who are trying to teach London to love by putting on a play, if only Larry can find something to rhyme with possum. They believe that putting electric lights on the stage will get them good reviews. The only trouble is that, on the other side of town, a small church pageant lead by Junior Asparagus is going to show an ancient relic, the Star of Christmas on the same night, and everyone wants to go see it. Hilarious hijinks ensue as Bob decides his production is more important, before finding the true meaning of Christmas.
Junior Asparagus is separated from his parents, and sets out just to be his own thing with his animals, until he bumps into Mr. Lunt and Mr. Nezzar who see that his drum playing is good at drawing a crowd. Eventually he leaves them and crosses paths with the three wise men headed to the manager to find baby Jesus. Of course Larry thinks they are Jedi, not Magi, but once that is cleared up, they head to manager where they find more than they thought they were looking for!
The first of the VeggieTales Christmas shows, in this show, George is telling Annie about a time where Christmas almost didn't happen because Mr. Nezzar was attempting to sell Buzzsaw Louie's to everyone and teach them that the true meaning of Christmas was about getting stuff. Of course he straightens them out, but not without peril, some penguins, and a chase! And it's here that we find out Bob's favorite board game.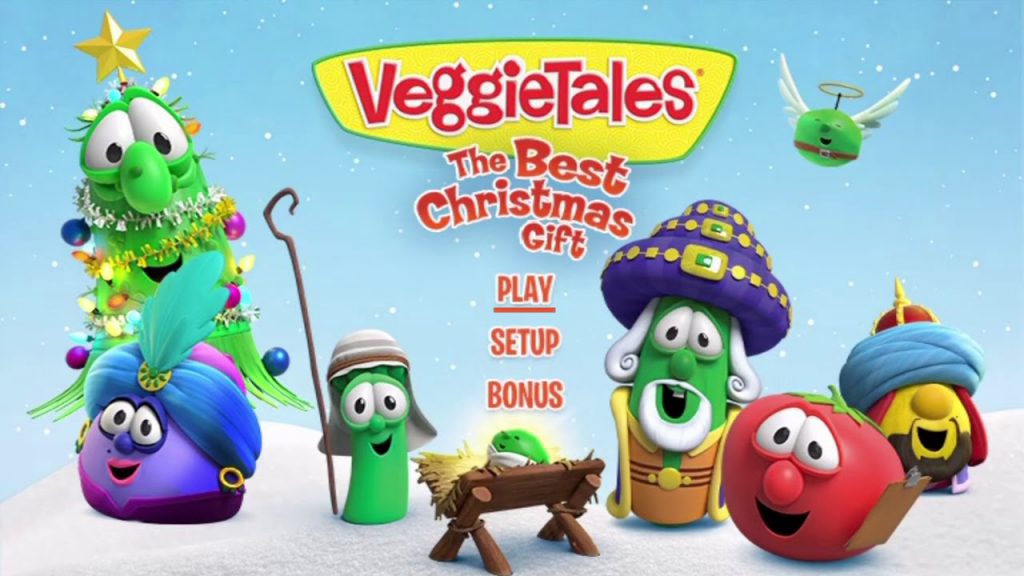 I actually haven't seen this one yet, so you'll have to wait for a different review! This came out on 2019, and is a reboot of the old voices and design! Bob and Larry are doing a stage production about Christmas, and just when everything seems to be going wrong, it all works out.
Want an easy way to get most of these? Look no further than the Ultimate Christmas Collection! It comes with all but the latest and Beauty and the Beet, and a Christmas singalong CD!
Which one is your favorite VeggieTales Christmas movie?
(Visited 847 times, 1 visits today)