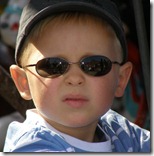 As you know, Pa Grape doesn't have any eyes—at least, not that we can see.  That means that it's very important that he has good eyewear.
The problem is, being a VeggieTales superstar doesn't exactly bring with it a big paycheck.  I mean, it used to be that new DVDs were $14.99, and now they're only $9.99!
So, where does Pa go to get his eyeglasses inexpensively?  Zenni Optical!
I have to admit, I was skeptical at first.  When Pa told me he had ordered a pair of glasses for $8.00 I told him that they couldn't work.  I spent the time it took to get them from China mocking him, and asked him where he'd ever heard of such a thing.
He pointed me to this web review from the Examiner.  Sure enough, these things were the real deal, and they saved Pa a bunch of money.
What's more, Pa was telling that the added features that you usually get—things link UV protection etc.—are really cheap there as well.
Like I said, I was skeptical, but the day came when they arrived in the mail and Pa shouted "Hallelujah, I can see again!"
If you're not looking to get your glasses right away, and you want a cheap pair of glasses that do a good job, check out Zenni Optical, and tell them that Pa Grape sent you!
(Visited 63 times, 1 visits today)