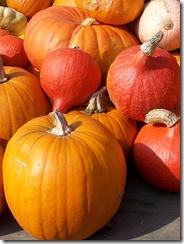 So, what do you and your family do for Halloween?  Do you even celebrate it?
Halloween is not big at my house, because of what it stands for.  I was actually reading this great article from Answers in Genesis called What about Halloween and I was fascinated by the discussion of the history of the holiday—and the possibility that it could be linked to the death of Mrs. Noah.  Of course, you'll have to go over and read that, but I was surprised that no one interviewed my friend, James the Pumpkin, to see what he thought…
Peter Plum: So James, what have you been up to since Larry Boy and the Rumor Weed?
James the Pumpkin: Well, Peter, I've been mostly working from home as a medical transcriptionist.  You see, there aren't a lot of jobs as extras for Pumpkins is VeggieTales as their used to be.  Seems like they now prefer Carrots.  My neighbor comes home very night, and he keeps rubbing it in that he got a bit part in–
PP: That's nice, James.  I'm really hear to ask you about Halloween.  What do you think of the holiday.
JTP: –Huckleberry Larry.  What?  Halloween?  I hate that holiday.  For days before the 31st of October I have to lock my doors and have Pizza Angel deliver my dinner every night.  Those crazy neighbor kids will do anything to get a laugh.  They paint funny faces on my door and set candles on my windowsills.  One year, I made the mistake of trying to hang up clothes and found someone trying to cut open my head!
PTP: Wow, that sounds dangerous.
JTP: Yeah—I mean, can you see me with a toothy grin all the time!  In any case, me and my pumpkin patch stay inside for Halloween.  And every year it's the same thing—people coming by thinking that because there's a band by that name that'd be fun to Smash Pumpkins.
PTP: Well, thanks for talking to me about this, and I hope you get another break in VeggieTales soon!
(Visited 77 times, 1 visits today)