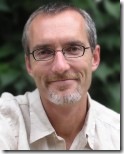 If you don't follow Phil Vischer's blog, you're likely to miss the updates about what's going on in his post-VeggieTales life.  And some of it is very interesting.
Believing in his ability to see what's coming next, Vischer has pulled together funding to create a Christian Children's television network online called "JellyTelly" that will have a subscription fee to watch the shows that he's producing there.
They will feature all new material (no Bob or Larry) and will have shorts featuring missionaries and kids doing God's work.
It sounds like an exciting adventure, and it should be going live very shortly.
(Visited 49 times, 1 visits today)