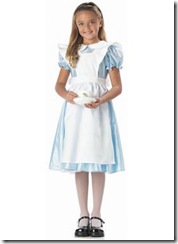 So, my boss had an crazy idea the other day.  You know how VeggieTales recently did an episode that was based on Wizard of Oz?  Well, he wanted to write an script based on Alice in Wonderland and try to pitch it to Bob the Tomato and see what he thought.
So, he's got me looking at Costumes on the Internet to see if I can find something that will fit someone like Petunia.
Fortunately, there are many sites out there that have Mens Costumes and Womens Costumes, and you can find them with deals even when it's not Halloween.
So, the basic gist of the story is this: Petnia is Alice, who's walking around her house following the little white bunny.  Not quite sure who will play the bunny…  Perhaps Junior.  I could see him saying that he was late for an important date.
As far as casting goes, I think that Mr. Lunt would make a great Cheshire cat, but I'm not quite sure who to cast as the Mad Hatter…  I started to think Larry, because he is the goofy one, but that's not necessarily insane.
I can definitely picture Madame Blueberry as the Queen of Hearts, and I can hear her French accent saying "Off with her head."  But that may be too rough for our audience?  Of is that a good time for a gag about a head of lettuce?
In any case, it's the core moral that matters—VeggieTales stories always have a moral—any ideas what the moral of the story could be?
(Visited 64 times, 1 visits today)